SPOFEC Rolls-Royce Ghost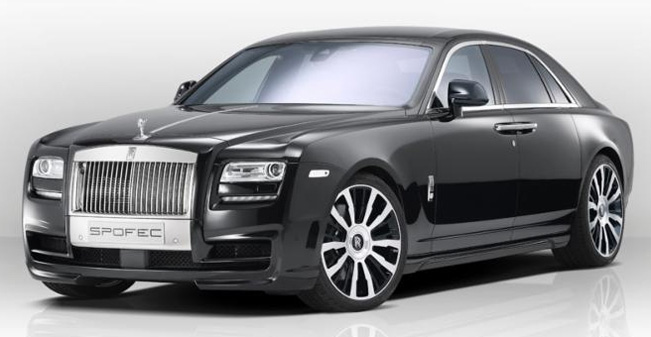 There are a lot of brands in NOVITEC GROUP. Which are some of the most developed motor cars. The German SPOFEC GmbH now shows a new design range of customized Rolls-Royce vehicles that satisfy even the the most sophisticated taste for technology and style of its clients. The name "SPOFEC" is an abbreviation of the name of the hood decoration, the "Spirit of Ecstasy".
Carbon-ceramic braking system with vented discs measuring 405 x 30 and 395 x 38 millimeters provide high performance and optimize the stopping power, along with renewed suspension system. New masterpiece SPOFEC engeneered 6.6-liter 12 cylinder engine reaches 521 kW ( 709 hp) and maximum torque of 978 Nm (721 lb-ft). Peak torque increases from 780 Nm to 958 Nm.( 575 lb-ft to 706 lb-ft). The V-SPEC engine with an ex-factory power output of 442 kW (601 hp) can also be installed a SPOFEC N-TRONIC performance kit.  All new design compenents are designed with carbon fiber.The amazing 12-cylinder engine delivers increased performance and breathtaking power delivery, along with the eight-speed automatic gearbox.
The luxury sedan now has an even more distinctive face, thanks to the SPOFEC front bumper. Its refined shape helps reducing negative lift on the axles at higher speeds.
What better addition to the exterior than Tailor-made SPOFEC alloy wheels, which are available for various Rolls-Royce models. Wheels' sizes are 9Jx22 at the front and 10.5Jx22 on the rear axle making full use of the available space below the wheel arches. SPOFEC's components offer ceritfied safety. An unique outer look is shown by the black paint finish with polish surfaces.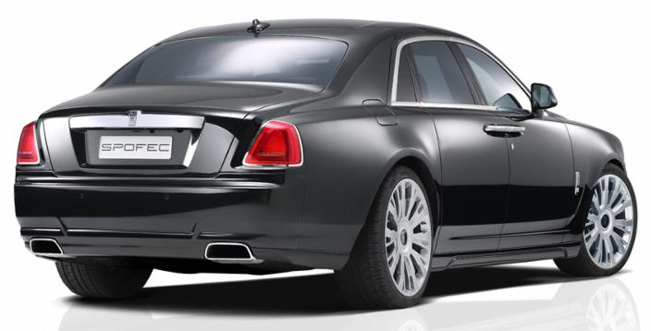 Source: Rolls-Royce