Everything You Need to Know About the 2017 Porsche 718 Boxster and Boxster S
They are here: 2017 Porsche 718 Boxster and Boxster S have been finally revealed! Besides their new name, they seem to be more powerful and more beautifully looking than ever before! Porsche has proudly announced that they have gained more than 35 horsepower and up to 36 percent more torque! The fuel economy improvements are of up to 14 per cent; the cars also feature revised exterior, updated brakes and suspension and more advanced technology.
With the change in the name (the number 718), Porsche pays tribute to the flat-four cylinder engines that were used in the mid-engine Porsche 718 sports car. The latter was a price winner and received many accolades in the late 1950s and early 1960s.
SEE ALSO: Porsche Revives the Legendary 718 via Exclusive Video
So at the heart of the model, there is the newly developed, turbocharged flat four-cylinder engine. Depending on the variant it is with different displacement. Here are all details you need to know about 2017 Porsche 718 Boxster and Boxster S. 
The Flat-Four Cylinder Engines
The 718 Boxster is driven by the 2.0 liter turbocharged engine, which produces 300 hp (220 kW) and 380 Nm (280 lb-ft) of torque, available from 1,950 rpm to 4,500 rpm. Significant gains in acceleration are due to these changes: the 0-90 mph sprint now happens in 4.5 seconds, which is 0.7 seconds faster than the previous model. The top speed is limited at 170 miles per hour, which happens to be 8 miles per hour faster than before.
2017 Porsche 718 Boxster S is equipped with the 2.5-litre engine, which generates 350 hp (257 kW), and its greater power is boosted by the utilization of a turbocharger with variable turbine geometry. In terms of Newton meters, this car develops 419 Nm (309 lb-ft) of torque 1,900 rpm to 4,500 rpm. This means that the Boxster S is capable of reaching 60 mph 4.0 seconds, which is 0.5 seconds faster than its predecessor. Another difference is that top speed of the 718 Boxster S is 177 miles per hour - 5 miles per hour faster than previously.
Both models come with standard six-speed manual transmission, while the fuel-saving Doppelkupplungsgetriebe (PDK) is offered as an option.
Sharper Exterior Design But Minor Changes Inside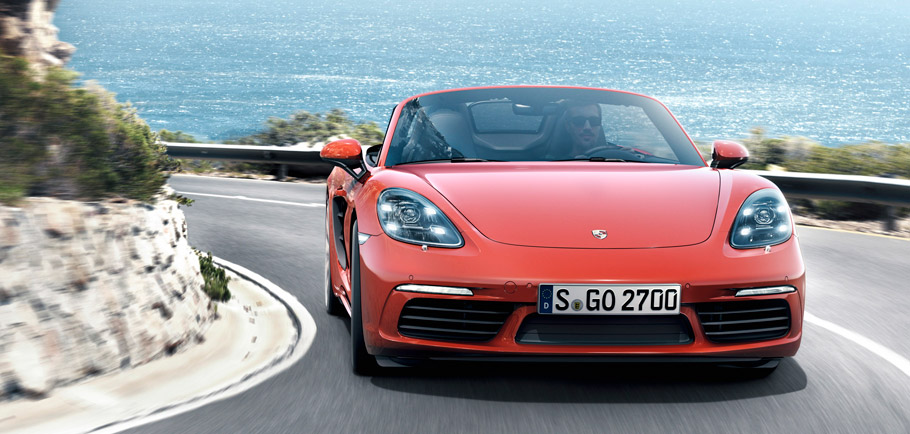 In terms of design there are changes that need to be addressed. The front is now wider and more muscular, features larger cooling air intakes and redesigned Bi-Xenon headlights with integrated LED DRLs. LED headlights with four-point daytime running lights come as an option.
The sides of the models include new style for the wings and side sills, larger air inlet panels with two fins, and the doors come without door handle recess covers. More prominently however stand out the 19-inch wheels on the 718 Boxster S.
The back of the 718 Boxsters highlights the new width, dude to the strip with integrated Porsche badge between the taillights. Speaking of which, they feature three-dimensional LED technology and four-point brake lights.
Unfortunately, the interior hasn't been changed so much. There are minor updates on the elements of the instrument panel. The biggest benefit of the cabin is that tit now features Porsche Communication Management (PCM) as a standard. PCM includes cell phone preparation, audio interfaces and the 110 watt Sound Package Plus. Optionally, the system can be improved with a navigation module including voice control, or a Connect Plus module featuring extension of the navigation module.
Greater Agility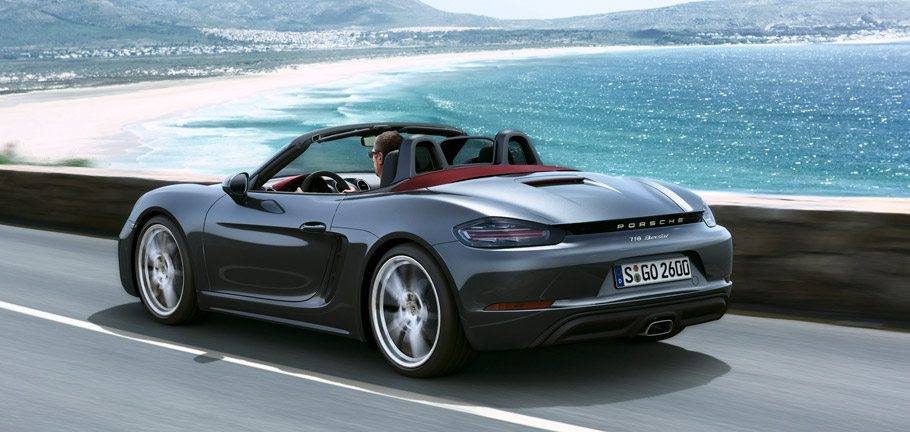 Greater agility means sportier suspension tuning and calibration. In fact, 718 Boxster's suspension was entirely retuned and as a result it delivers better cornering performance. In addition, the electric steering system is 10% more direct than previously, thus increasing agility, precision and maneuverability.
Options for 2017 Porsche 718 Boxster and Boxster S
Porsche Active Suspension Management (PASM) comes as an option here. It includes a ten millimeter lower ride height, and for the 718 Boxster S the millimeters are 20. What is more, the retuned active suspension, delivers an even broader spread between long-distance touring comfort and dynamic responsiveness.
Sport Chrono Package has been created for those of you who want engaging driving experience. It features Individual program in addition to the three standard settings: Normal, Sport and Sport Plus. Those 718 Boxsters that will be equipped with PDK, will get a Sport Response Button with this pack. The button was inspired by motorsports and sharpens the responsiveness of the engine and the transmission, delivering better acceleration.
Pricing
2017 Porsche 718 Boxster and Boxster S are available to order now! They will reach U.S. dealerships in late June 2016. The 718 Boxster has a starting price of $56,000 USD, while the price tag of the 718 Boxster S begins from $68,400 USD.
Source: Porsche