Porsche 997 V-RT Edition 911 Turbo By Vorsteiner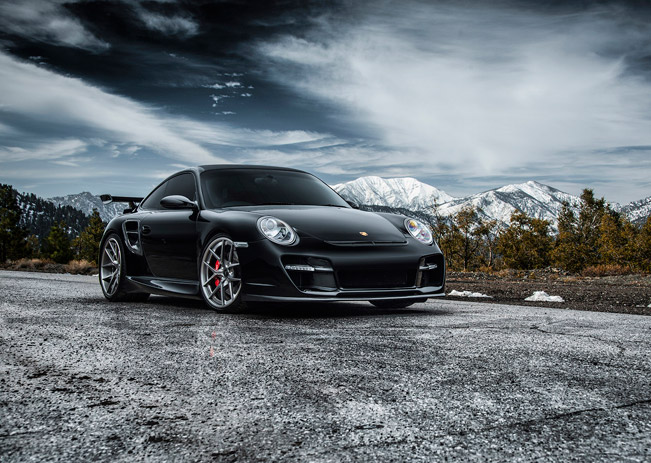 Vorsteiner Porsche 997 V-RT Edition 911 Turbo is simply stunning! It has been completely refined and now exudes even more class and luxury. The engine under the hood of this beautiful car is the 3.6 litre twin-turbocharged flat-six one. It generates 480 horsepower (353 kW) and 620 Nm (458 lb-ft) of torque, and catapults the car from standstill to 100 km/h in 3.7 seconds. The top speed here is 310 km/h (193 mph).
The additional enhancements by Vorsteiner include V-RT aerodynamics package, VSM-310 multi-piece forged wheels, as well as custom embroidered velour floor mats. At the front end of the Porsche, the aero kit adds a replaceable chin spoiler increasing the downforce as well as carbon fiber brake ducts which direct air to the rotors to maximize cooling during heavy braking.
At the rear, the kit enhances the car with a functional carbon composite rear deck lid/engine cover with twin ram air scoops. They feed air into the engine bay and air intake for optimum airflow and cooling. What is more, a carbon fiber wing blade rounds out the final appearance while increasing down force to the rear of the vehicle at high speeds.
Oh, we forgot to mention the unique wheels on which this 911 Edition runs. They are Vorsteiner's Sport Multipiece Forged VSM-310 finished in Gloss Brushed Shadow and coming in sizes 20x9" at the front and 20x12" at the rear. Of course, the Michelin Pilot Super Sports complement them perfectly.
Vorsteiner Porsche 997 V-RT Edition 911 Turbo Details:
V-RT Edition 997 Aerodynamics Package:

V-RT Front Bumper with Carbon Fiber Brake Ducts, Chin Spoiler and Grille Insert
V-RT Carbon Fiber Side Intake Inlets
V-RT Rear Wing with Integrated Twin Air Scoops
V-RT Rear Bumper with Integrated Carbon Fiber Diffuser and Intercooler Shrouds

Interior:

Porsche 997 4-piece Vorsteiner Embroidered Velour Floor Mats

Wheels:

Sport Multipiece Forged VSM-310
Wheel Finish: Gloss Brushed Shadow
Wheel Size: 20x9J Front, 20x12J Rear
Tire Size: 245/30/20, 325/25/20 Michelin Pilot Super Sports
Source: Vorsteiner