2013 Porsche 918 Spyder Prototype Enters Production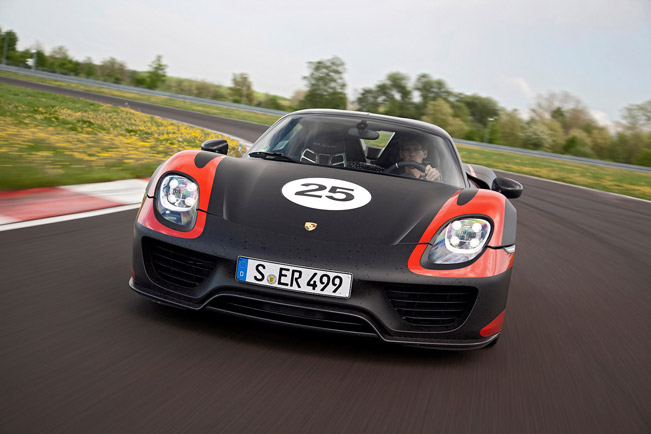 2013 Porsche 918 Spyder is on the road is already planned for production which will start at the end of September this year. The first deliveries are to be in the end of the year. In fact, the camouflage of the vehicle harks back to historical Porsche 917 racing cars.
The focus here is put on the interplay between the highly sophisticated individual drive components. Furthermore, the models will include the powerful combination between a combustion engine and two independent electric motors.
One of the latter is positioned on the front axle and one in the drive line, acting on the rear wheels. In addition, there was also done a development of the software especially because of the engines. The result is extreme driving fun and one-of-a kind combination of minimal fuel consumption and maximum performance.
2013 Porsche 918 Spyder Prototype is designed as a plug-in hybrid car because of the mixture of high-performance combustion engine and cutting-edge electric motors. The extraordinary performance delivered is estimated at 770 hp (566 kW), while the fuel economy is around three litres per 100 kilometres.
Furthermore, this Porsche's construction features also full carbon fibre reinforced plastic (CFRP) monocoque with unit carrier, fully adaptive aerodynamics, adaptive rear-axle steering and the upward-venting "top pipes" exhaust system. In fact, the 918 Spyder is offering a glimpse of what Porsche Intelligent Performance may be capable of in future.
Source: Porsche