Volkswagen Polo BlueMotion at 2011 EcoVelocity
Volkswagen will exhibit several vehicles from the BlueMotion range at the 2011 EcoVelocity held from 8 to 11 September. The visitors will be encouraged by Volkswagen to "Think Blue", as they get up close and personal with some of the company's latest BlueMotion products, both on the stand and on the track.
The BlueMotion range includes Touareg Hybrid and Scirocco BlueMotion as well as the small Polo BlueMotion. Golf VI BlueMotion will also be at the event.
2012 Volkswagen Scirocco BlueMotion is powered by a 2.0-litre TDI 140 PS diesel engine. It comes with a Stop/Start system to save fuel when the vehicle is stationary, along with battery regeneration, which recovers energy which would otherwise be lost to recharge the battery.
The Touareg Hybrid combines a 3.0-litre V6 TSI engine and 47PS (34.3 kW) electric motor and can travel on electric drive alone at speeds of up to 50 km/h (31mph).
Golf BlueMotion can return up to 74.3 mpg on the combined cycle and emits just 99 g/km of CO2.
The new Polo BlueMotion comes with an advanced 1.2-litre TDI three-cylinder common rail diesel engine developing 75 PS (55 kW) and 180 Nm (133 lb-ft). 0 to 100 km/h in 13.9 seconds and a top speed of 171 km/h (107 mph). It achieves an impressive 80.7 mpg on the combined cycle.  This grants the new Polo BlueMotion a theoretical range of over 800 miles on one tank of diesel.
2011 Volkswagen Polo BlueMotion is priced at £14 445 RRP on the road for the three-door, and £15 045 for the five-door model.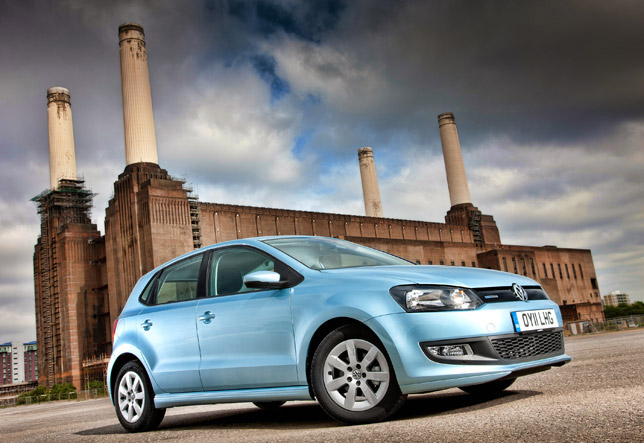 "We're delighted to have Volkswagen at EcoVelocity as it is one of the game-changing brands that really started the movement towards no-compromise ultra-low carbon motoring. Its BlueMotion range set the industry benchmark and we look forward to getting a further insight into their ground-breaking technology at EcoVelocity in September.", commented Giles Brown, EcoVelocity Director.
Source: Volkswagen