BBR upgrades the 2005-2014 Mazda MX-5 with "Super 200" package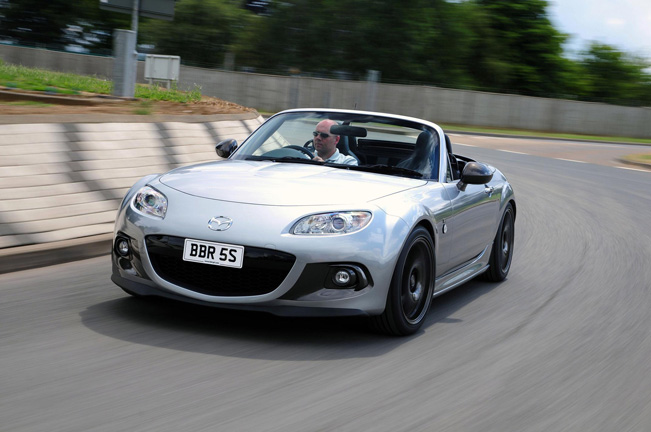 The famous performance tuner BBR has unveiled the so-called "Super 200" upgrade package for owners of 2005-2014 Mazda MX-5 vehicles. In particular the upgrade package targets people who own the 2.0-liter Mazda MX-5 Mk3 / 3.5 / 3.75 (NC) models. The main perk of the package is engine power that was previously considered impossible.
"BBR knows that the Mazda MX-5 owners' community is a broad church and not everyone wanted the supercar style performance of our highly successful turbocharged upgrades," says BBR-GTI's Neil McKay. "Therefore we decided to develop a package that built upon our entry level Super 175 and 180 upgrades by incorporating exclusive BBR hardware and further electronic development to deliver the first genuine 200 bhp normally aspirated conversion to an eager Mazda performance aftermarket, whilst being designed for everyday use and offering exceptional value for money," he continues.
The "Super 200" package includes the following components: high flow BBR panel air filter, BBR stainless steel 4-into-1 exhaust manifold, BBR high performance intake and exhaust camshafts, BBR 3.5-inch diameter branded tailpipes with stainless steel clamps, BBR ECU remap and BBR badges for front wings and bootlid. Thanks to these hardware improvements the BBR Super 200 upgrade boosts peak power to 201 bhp (204 horsepower) at 7450 rpm, which is a remarkable tested gain of 43 bhp (44 horsepower).
Having more peak power is nice but BBR has put extra effort into delivering all this power to the right spots. Thanks to a carefully designed and tested pair of exclusive camshaft profiles with unique lift and timing specifications, the Super 200 package delivers strong gains from just 3000 rpm upwards with standard power output exceeded at every point in the rev range. These efforts have results that can be measured in numbers. Thus the MX-5 2.0-liter 16-valve engine with the upgrade package produces 166 lb.-ft. of torque (225 Nm), which is 19 lb.-ft. (26 Nm) more than in the original, with the peak value arriving at just 4000 rpm, which is 1100 rpm lower than in the original.
Mindful of both costs and occupant comfort for high speed, long distance driving, the standard exhaust centre section, catalytic converter and rear silencer are retained with the BBR Super 200 upgrade, but the package includes a set of 3.5-inch branded stainless steel tailpipe trims which are adjustable to accommodate different bumper options on Mk3 / 3.5 / 3.75 models. In addition, exclusive yet subtle BBR wing and bootlid badging is included in the Super 200 upgrade.
In the UK the new upgrade package costs GBP 2,195 and this price includes drive-in, drive-out installation. A do-it-yourself version sells for GBP 1695. You can also find the Super 200 upgrade package at certain Mazda UK dealers.
Source: Mazda