Caterham Seven 250 R Designed By Kamui Kobayashi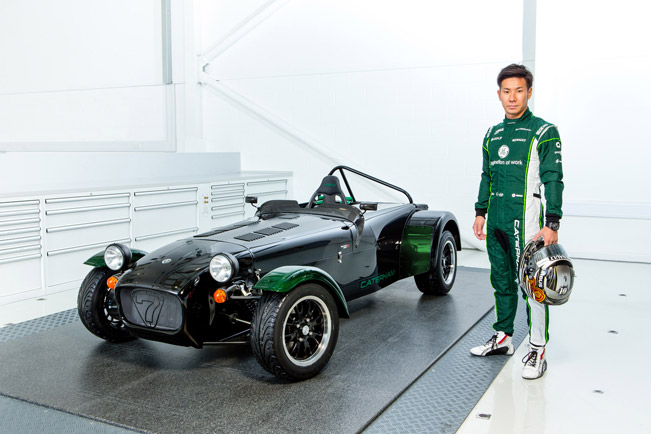 Caterham Seven 250 R by Kamui Kobayashi is a brand new special edition of the car which was designed under the expertise of Caterham's F1 Team driver. Only ten examples of the model will ever go on sale and even more – they will be exclusively sold in Japan. The car is based on the Seven 250 R but is equipped with an array of performance-focused features hand-chosen by the Formula One driver.
The car is powered by a 1.6 Ford Sigma engine and delivers up to 125 hp (92 kW). It accelerates from 0 to 100 km/h (62 mph in just 5.9 seconds on its way to a top speed of 122 mph. The unit is coupled with a six-speed manual transmission with a limited slip differential.
In terms of exterior, the car is finished in high-gloss black paint accented by matt black sport stripes. Every Kamui Kobayashi edition wears a number 10 badge on its nose, which is Kamui's Formula One number. Carbon fiber is used for the front wings and rear wing protectors, and it infused with a unique Caterham green lacquer.
This Caterham model is a single-seater and includes an aluminium tonneau cover over the passenger seat area. There is also a single-sided rollover hoop fixed to the rear bulkhead, with 13-inch diamond cut black wheels. Polished chrome rear exit exhaust system rounds out the dynamic styling.
The performance theme is continued inside. Carbon fibre has been utilized for the dashboard and again it is infused with the green lacquer. The dashboard is also personally signed by Kamui.
The same material was used for the construction of the sports seat. It also features green contrasting stitching, a Kamui logo in the head rest and a green Takata-branded 4-point harness. Other interior features included in the car are the special Kamui gauge inlays, an anodised green gear knob with Kamui wordmark and an anodised green key.
In March the driver raced with a Caterham Seven 620R for the first time at Silverstone circuit. He also said that it took him only one corner, to understand the character of the car. The racer was also impressed by the power of the 620R, because it resembled a race car but was street legal.
The ten examples of Caterham Seven 250 R Kamui Kobayashi special edition are going on sale today in Japan, priced at ¥6,000,000.
Source: Caterham