2014 Citroen DS 6WR Debuts In Beijing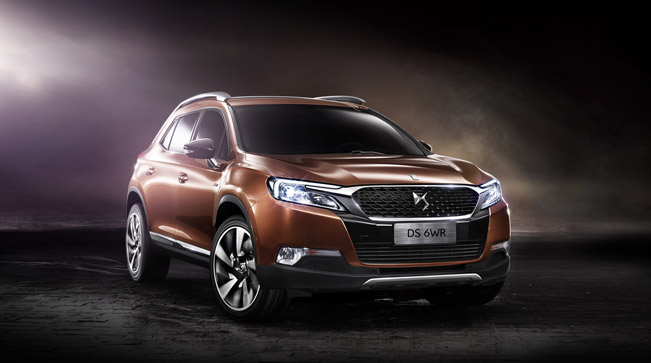 2014 Citroen DS 6WR officially debuted at the Beijing Motor Show adding an SUV in the DS powerful range. It is inspired by the Wild Rubis concept that was unveiled last year at Auto Shanghai. In fact this is Citroen's first production SUV and next to the DS 5LS, makes the next stage in the development of DS in China. The car was originally designed in Paris and features original body lines combined with the powerful presence and sophisticated design cues of the DS line-up.
This SUV is 4.55m long, 1.86m wide and 1.61m tall and also offers very long wheelbase of 2.73m. In addition, it runs on 19-inch wheels and features Grip Control. This technology enhances traction on all types of terrain without a four-wheel drive system. What is more, it also reduces both fuel consumption and CO2 emissions.
DS 6WR is driven by either the e-THP 160 or THP 200 engine. They feature sequential direct injection with a high-pressure pump and Twin Scroll type turbocharger. In addition, each of them is coupled with a six-speed automatic gearbox.
Some of the elegant exterior highlights of the DS 6WR are the unique chrome-finish side signature, the aluminium bars and the sculpted lines of the rear wing. At the front, is positioned a new grille, which is attractive and features sculptural design. It is called "DS Wings", inspired by the two chrome-finish wings connecting it to the headlamps.
The modern look of the grill is additionally enhanced by the DS logo positioned on it. It also features incisive light signature with DRLs in a tuning-fork layout and Xenon technology. At the rear, the lights are built into the wraparound tailgate. The latter is underlined at the base by a chrome finish with a twin exhaust.
2014 Citroen DS 6WR will make its debut at the end of the year in China and will probably be introduced in other countries. Citroen will also introduce another China built model in the upcoming months.
Source: Citroen