Mitsubishi Outlander PHEV Enters Baja Portalegre 500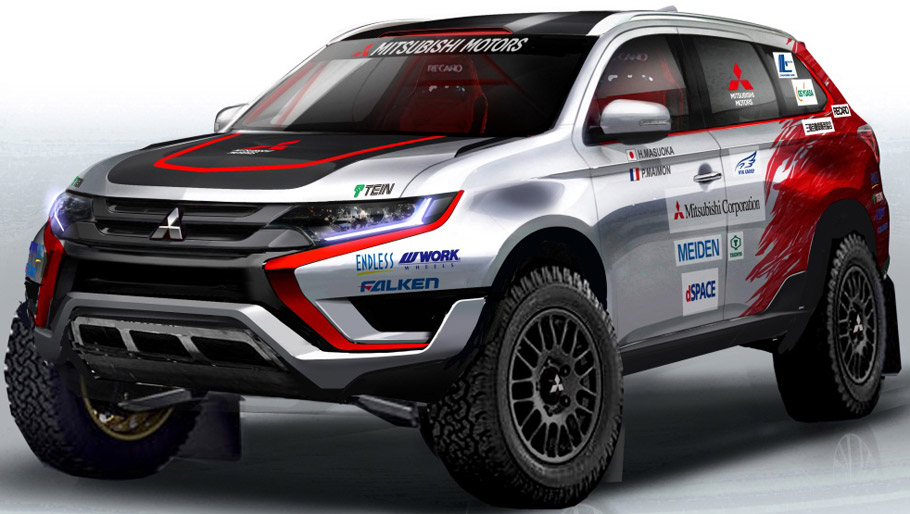 Mitsubishi Outlander PHEV is going to enter the Baja Portalegre 500 cross-country rally. The competition will take place at the Portalegre municipality in the eastern part of Portugal between 22nd and 24th of October this year. Outlander PHEV is the only twin-motor 4WD in production today, and this signifies a special step forward for Mitsubishi Motors Corporation.
The Japanese company has developed for the event a special version of the Outlander PHEV, which will be driven by Mr. Hiroshi Masuoka. He is the person who won the Dakar Rally twice back in 2002 and 2003. Mr. Masuoka will be also team's captain.
In the team will take part Mr. Yasuo Tanaka. He is an engineering expert from the EV Component Research Department within MMC's Development Engineering Office. He will be also supported by four engineers from his department.
SEE ALSO: Mitsubishi Introduces Outlander GX5h and GXhs PHEV Models 
Mitsubishi Outlander PHEV rally car is based on the production model but features various modifications, required for the competition. As a matter of fact, MMC has entered the vehicle in order to display the development of EV and 4WD technologies.
Outlander PHEV utilizes production model's drive battery that is in the core of a plug-in hybrid vehicle. However, some modifications to its structure have been made in order to realize greater capacity and output.
There is also a modification in the control system which governs the motors and now delivers more horsepower. Furthermore, the generator and engine have been modified to boost power output and overall system performance.
In terms of the body, the vehicle has been fitted with a roll cage and other safety equipment features. For instance, the off-road performance is now better and the driver can benefit entirely from the upgraded PHEV system. Other changes include a higher ground clearance and longer suspension stroke as well as larger diameter rally tires.
Mitsubishi hopes that the applied changes will improve Outlander PHEV's performance limits so that it can perform exceptionally in the rally. Under the punishing conditions of the competition, Mitsubishi will gather valuable data so that it can be used in the future development of production cars.
Source: Mitsubishi