Mitsubishi Reveals Outlander PHEV Concept-S Ahead of Premiere in Paris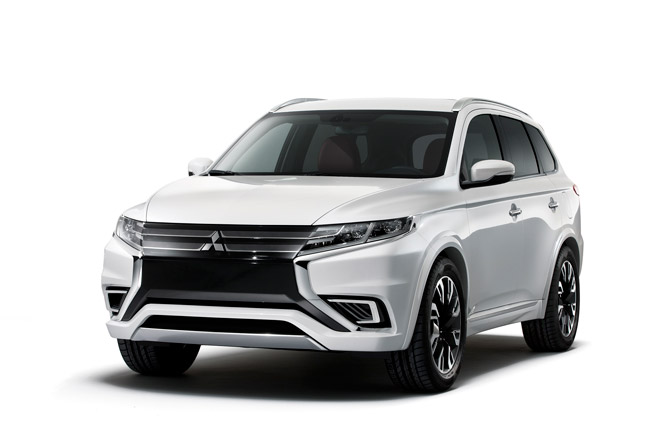 Mitsubishi Outlander PHEV Concept-S that was teased twenty days ago now has been showed inside and out with two pictures. The car is set to make its official world premiere at the 2014 Paris Motor Show. At the even, Mitsubishi will be also displaying a total of 11 vehicles featuring the Outlander PHEV rally car which competed in the FIA Asia Cross Country Rally 2014, European specification production models, the i-MiEV and other electric powered vehicles.
Outlander PHEV Concept-S is a concept model based on the Outlander PHEV 4WD SUV plug-in hybrid vehicle. It represents a special design package for the production version and its exterior and interior are created under the theme "Sporty and Sophisticated".
The overall design of the concept model, expresses driving pleasure by delivering powerful and agile performance. In addition, it also combines it with quiet, advanced and high quality driving performance provided by its Twin Motor 4WD and Plug-in Hybrid EV System.
Furthermore, the front end design shields the Three-Diamond mark through bold chromed accent mouldings on either side. This further strengthens the three dimensional effect and additionally suggests motion. Wraparound headlamps contribute to a sense of dynamism sweeping up and outwards.
The same design theme continues at the rear, where the creative team has utilized similar symbolic chrome accents. For instance, such are the elongated combination lamps that run from tailgate to wings. This also expresses dynamic and innovative styling as if bracing the vehicle for better safety. From the outside, car's body has been decided in brilliant "Platinum White" paint glass flake finish.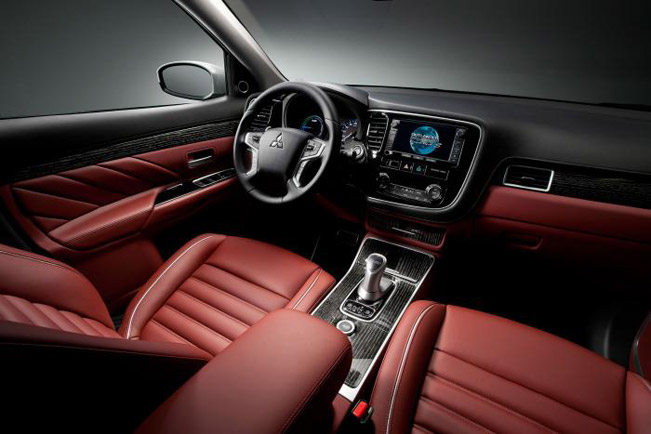 Inside, the design of this concept is the complete opposite (in terms of color) to the sparkling exterior. The theme here is "Black & Burgundy". In particular, Concept-S' interior design makes use of painstakingly executed detailing such as the black wood grain trim with silver accent, the centre console designed inspired by Japanese traditional black lacquered boxes and the soft fine leather, hand-stitched by craftsmen selected for the seat upholstery.
Next, the seat upholstery forms a three-dimensional surface with horizontally-ribbed cushioning. In addition, the silver accents of the trimming lines, curving around the seat, further enhance the perceived quality of the interior.
Mitsubishi Outlander PHEV Concept-S Main Specifications:
| | |
| --- | --- |
| Overall length (mm) | 4,760 |
| Overall Width (mm) | 1,840 |
| Overall height (mm) | 1,700 |
| Wheelbase (mm) | 2,670 |
| Occupants | 5 |
| Powertrain | Plug-in Hybrid EV System (2 permanent magnet synchronous motors, Lithimun-ion battery (12kWh), 2.0-liter 4-cyl. DOHC MIVEC gasoline engine) |
| Drivetrain | Twin Motor 4WD |
Mitsubishi Motors Line-up at 2014 Paris Motor Show:
Model
No. on display
Remarks
Press day
Public day
Outlander PHEV Concept-S
1
1
Concept car
MITSUBISHI Concept XR-PHEV
-
1
Concept car
Outlander PHEV
2
Production model
Outlander PHEV
1
1
Rally car. Successful finisher in FIA Asia Cross Country Rally 2014
i-MiEV
1
1
Outlander
-
1
ASX
-
1
RVR or Outlander Sport in some countries
Mirage
-
1
Shogun
-
1
L200
-
1
Total
5
11
Source: Mitsubishi