MTM tuning package for Audi A6 3.0 BiTDI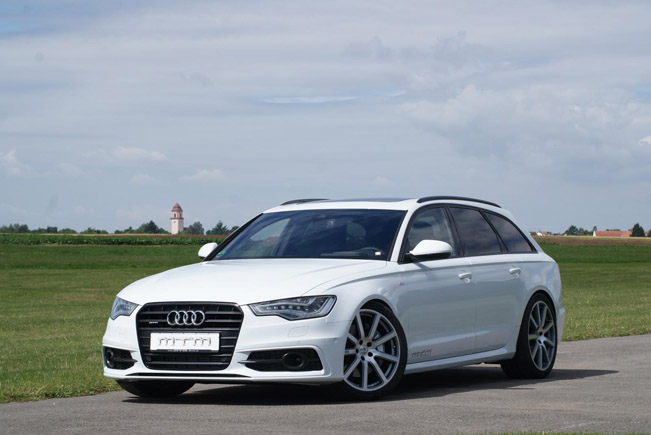 MTM has announced their tuning program for the new Audi A6 BiTDI. The 3.0 liter bi-turbocharged V6 diesel has received performance package and the exterior comes with some nice upgrades.
The engine is boosted to 386HP (284 kW) and 780Nm (575 lb-ft) of torque, which is an increase of 69HP (51 kW).  This power comes after an ECU re-map, which is done in several hours. The price is €1800, which is not so much for such result. However, for €100 less (€1700) you can get the tamed MTM version with 365HP and 760Nm.
Other performance upgrades are a huge brake system including 380 x 34 mm brake discs with 8-piston calipers for €4 900. There is even bigger one with 405 x 36 mm discs that cost €6 400.
The tuning company also offers different wheel sets ranging from 18" to 20" in diameter. The 8J x 18" set costs €1730 and the huge 9J x 20" cost €5230.
Finally, MTM has installed an F-Cantronic ECU for air suspension that elevates and lowers the A6 3.0 BiTDI on the right level according to the driving- conditions. On the front axle the car can be lowered with 25 mm and on the rear – 20 mm. The air suspension will stabilize the car on standard level if it goes above the mentioned data. The F-Cantronic is mounted in two and a half hours and costs €1740.
Source: MTM