Perfect Style: TECHART Porsche Cayman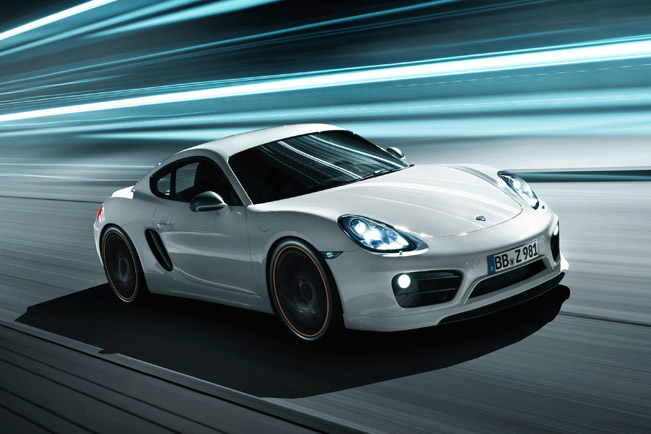 TECHART Porsche Cayman is the latest transformation of an exquisite model delivered by the specialists of the tuning company TECHART. They have transferred the principles of sportiness and individuality with their typical design philosophy.
The exterior of this Porsche model includes a new front apron with a TECHART two-part front spoiler, integrated splitter as well as redesigned and enlarged central air duct. This results in more aggressive on-road stance of the Cayman.
The rear of the car on the other hand is enhanced via trims at the side mirrors and upright fins in the side air intakes at the rear wheel arches. In addition, the combination of a fixed TECHART rear spoiler, a rear diffuser with TECHART diffuser trim and central TECHART sports tailpipes rounds off the cars new visual characteristics.
Furthermore, there also has been added an audible improvement thrrough a TECHART sports exhaust muffler, or there is an option to be included the new TECHART sports exhaust system with valve control.
The aggressiveness of the car is further accentuated vie the TECHART wheels in 21-inch size. There is a chice between TECHART Formula light alloy wheels in classic 5-spokes design and the weight reduced TECHART Formula III forged wheels in dynamic twin-spokes design. At last, the exterior features TECHART sport spring kit which lowers height of the vehicle by 35 mm.
TECHART has also featured in this tuning program a handcrafted interior. A full leather equipment is included which features decorative stitching, lacquered surfaces, carbon fiber trims and manifold interior styling package.
TECHART 3-spokes sport steering wheel with ergonomically mounted TECHART paddle shifters is one of the highlights here and it offers precise vehicle control and allows sporty gear changes in combination with maximum driving pleasure.
Exterior & Aerodynamics
TECHART Front Spoiler I in vehicle's body color with integrated front splitter
TECHART Side Mirror Trims in titanium grey matt (mirror arms and mirror bottom shells in body color, mirror covers in titanium grey matt)
TECHART upright fins in body color at the side air intakes
TECHART Rear Spoiler in body color, wing uprights in titanium grey matt
Rear Diffuser in titanium grey matt with TECHART diffuser trim in body color
Engine & Drive
TECHART Sports Tailpipes, round, black matt chromed
Chassis & Wheels
TECHART Formula III 5-spoke forged wheels in 21-inch, titanium grey matt, outer rim in orange matt
TECHART Sport Spring Kit (lowers ride height by 30 mm at front axle and 20 mm at rear axle)
TECHART Wheel Spacers
Brake callipers in orange with TECHART logotype
Interior
Full leather equipment in black with decorative stitching and leather applications in orange
TECHART Interior Styling Packages I, II, III and IV in titanium grey matt
TECHART Carbon Interior Kits I, II and III in graphite grey matt
Seat back panels of Sports Seat Plus in body color
TECHART Instrument Dials in orange
Sport Chrono Dial in titanium grey and orange
TECHART 3-spoke Sports Steering Wheel (PDK) in leather black with decorative stitching in orange
TECHART Paddle Shifters in orange matt with symbols in black matt
TECHART door sills in body color with TECHART logotype in orange
TECHART Floor Mats in black with leather piping in black and decorative stitching in orange, leather latch with TECHART badge
TECHART Loadspace Floor Mat in black with leather piping in black and decorative stitching in orange, leather latch with TECHART badge
TECHART Engine Compartment Trim with TECHART Logo and luggage protection bar in carbon, graphite grey matt
TECHART Sport Pedals in Aluminium, hard anodized
TECHART Foot Rest in Aluminium, hard anodized
Source: TECHART